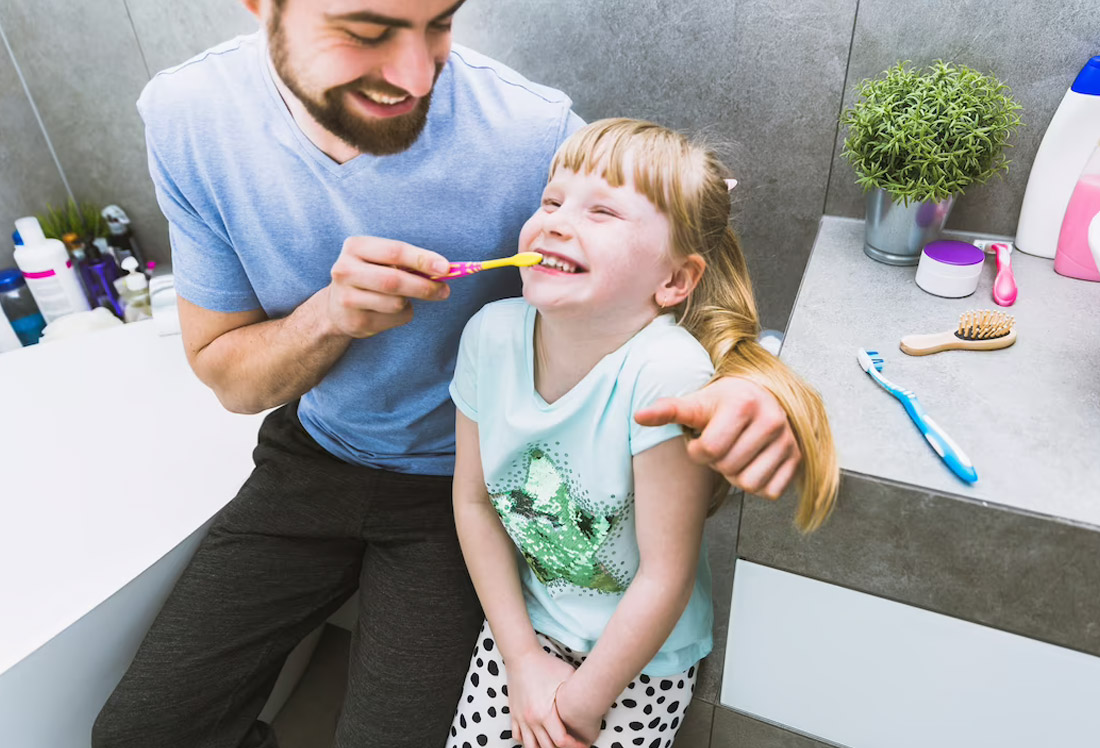 5 Tips To Help Children Find The Fun In Brushing Their Teeth
Brushing teeth is an important part of dental hygiene for kids. Children may have various reasons for avoiding teeth brushing, such as the sensation of cold water or the taste of toothpaste. Nevertheless, what we do know is that many children simply do not enjoy brushing their teeth. Despite this, forming good teeth brushing habits is essential and it is important for kids to learn to incorporate it into their daily routines as early as possible. Well! Regardless of the multiple reasons children can make to avoid brushing their teeth on a regular basis, here are the five essential and workable tricks to make them do it with complete fun. If they enjoy brushing, they are sure to get regular with it.
Here are five suggestions for making teeth brushing enjoyable for children:
Make it a game: Turning tooth brushing into a game can make it more enjoyable for children. Turning any activity into fun always improves its efficiency and with children onboard, fun is the only way to make them learn. You can create a "tooth brushing challenge" where you time how long your child can brush their teeth while they try to beat their previous record. You can also have your child "count" their teeth as they brush, or make up a fun song or story to sing or tell while brushing. Another way to enjoy brushing is to make them imitate the ways you brush your own teeth in the mirror. As they imitate you, they are going to learn the right ways of moving their brush with the right strokes.
Use flavored toothpaste: Children are often more willing to brush their teeth if they enjoy the flavor of their toothpaste. Taste factor always helps make even the tougher challenges easier with them. There are many flavors of toothpaste that are specifically designed for children, such as bubblegum, strawberry, and watermelon. Let your child choose their favorite flavor to make tooth brushing more enjoyable. However, make sure it is safe for them.
Use a fun toothbrush: Just like with flavored toothpaste, a fun toothbrush can make tooth brushing more enjoyable for children. Toothbrushes with cartoon characters or bright colors can make the experience more engaging for children. These special brushes come in all varieties with multiple options to choose from. Let your child choose their favorite cartoon character or superhero to make their brushing time super fun.
Reward good behavior: Positive reinforcement can go a long way in encouraging children to brush their teeth. Similar will remain in terms of good brushing, too. You can create a sticker chart or other reward system to motivate your child to brush their teeth every day. Rewards can include small toys, a special treat, or extra playtime. Let your child enjoy their brushing time with the hope of getting their special reward, each time they do the job correctly.
Brush together: Make your brushing time, family time. Just like meal times, entertainment time, etc.; make your children's brushing time as a family time, too. With this they will not just enjoy but will be willing to learn as well. Children often learn by example, so brushing your teeth with your child can make the experience more fun and encourage good habits. You can make it a family activity and turn it into a fun bonding experience. Keep them involved and make them learn the basics and importance of brushing their teeth, regularly. Any activity when done together with family is always fun, so use this technique to make them enjoy and learn with you.
Brushing teeth can be a fun activity for kids if you make it enjoyable. You might find it difficult in the beginning but gradually you and your child will soon start to get along in a fun-filled manner. You can try to sing a song, play a game, or use a fun toothbrush and toothpaste to make the experience more engaging. This can be an amazing bonding time for you and your child.
Parents are the first teachers to their children. Whether it is the life lessons or the simple teachings like brushing, showering and other personal hygiene considerations. Teaching them the right way in a fun-filled manner will help keep the curiosity and excitement alive.
By following these fun tips, you can help your child develop good brushing habits and maintain good oral hygiene for a lifetime. Follow the above tips and try to improvise them as per your convenience and creativity. Children are very naïve to the world, so in order to help them learn the essential things and habits in life, adding the fun element always works.